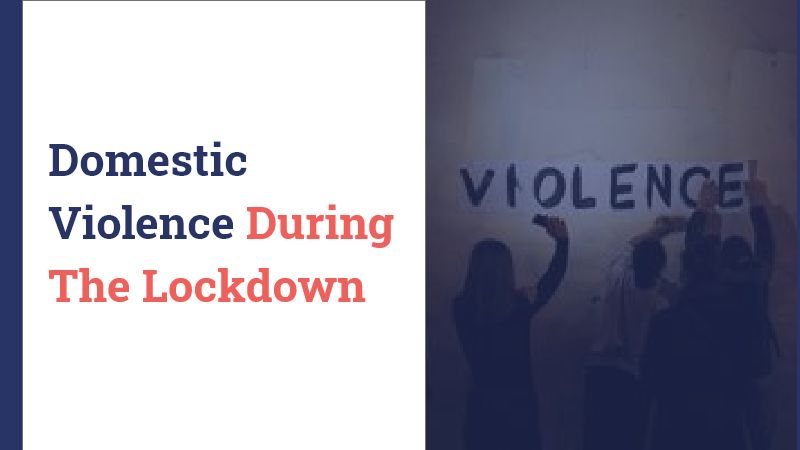 Domestic Violence:- The term 'domestic violence' (DV) is used in many countries to refer to intimate partner violence (IPV), but it also encompasses child or elder abuse, or abuse by any member of a household.
Domestic Violence may include acts of:
Physical violence, such as slapping, hitting, kicking, and beating.
Sexual violence, including forced sexual intercourse and other forms of sexual coercion;
Emotional (psychological) abuse, such as insults, belittling, constant humiliation, intimidation (e.g. destroying things), threats of harm, threats to take away children.
Controlling behaviors, including isolating a person from family and friends; monitoring their movements; and restricting access to financial resources, employment, education, or medical care.
Causes of Domestic Violence:
Patriarchy: Some people with very traditional beliefs may think they have the right to control their partner, and that women aren't equal to men.
Societal influence: Some abusers learn violent behavior from their family, people in their community, and other cultural influences as they grow up.

Boys who learn that women are not to be valued or respected and who see violence directed against women are more likely to abuse women when they grow up.

Girls who witness domestic violence in their families of origin are more likely to be victimized by their own husbands.

Economic causes: Unemployment, alcohol, and drugs may also contribute to violent behavior.
Socio-Cultural: Dowry related deaths and honour killings is also a reality that testifies domestic violence.
Individual Factor: Some abusers may feel this need to control their partner because of low self-esteem, extreme jealousy, difficulties in regulating anger and other strong emotions, or when they feel inferior to the other partner in education and socioeconomic background.
Impact of Lockdown on Domestic Violence in India.
Under Reporting of the Cases: The National Commission of Women has recorded 291 complaints of domestic violence in March 2020 and is now only receiving complaints via email. However, actual reported cases may be quite low.
With curtailed mobility and a police force being engaged in ensuring that lockdown properly followed, women are losing even the avenues that could have saved them from abuse, and in extreme cases, death.

Further, due to the prevalence of orthodox social norms and the stigma that is placed on survivors of domestic violence, such cases are being grossly under-reported.

Women belonging to poor and vulnerable classes are not able to file any complaints.
Defunct NGOs: The counseling centers are supposed to reach out to the complaint pertaining to domestic violence. However, amid lockdown, the NGOs and volunteer organizations, that are usually the avenues for women to report such attacks are not working.
Undermining of Gender Equality: The Sustainable Development Goal (SDG)- 5 that seeks to "eliminate all forms of discrimination and violence against women in the public and private spheres, and to undertake reforms to give them the same rights to economic resources and access to the property by 2030," is being enormously compromised.
An added challenge has been the importance of intertwined negative psychosocial impact on the mental health of women.

This further increases with job losses and other economic pressures on women.
Domestic violence in the context of COVID-19:
Fuelled by mandatory stay-at-home rules, physical distancing, economic uncertainties, and anxieties caused by the pandemic, domestic violence has increased globally. Across the world, countries including China, the United States, United Kingdom, Brazil, Tunisia, France, Australia, and others have reported cases of increased domestic violence and intimate partner violence. India, infamous for gender-based violence (and ranked the fourth worst country for gender equality, according to public perception), is showing similar trends.
The main reason for the rise of domestic violence is that men at home are taking out their frustration on women. Moreover, much of the domestic labour still gets to be done by women, as men refuse to participate in domestic work. Job loss, salary cuts and an uncertain future arising out of the lockdown has everyone on the edge. It is not confined to the lower classes, but also permeates the middle and upper-middle class working men and women, who see their self-esteem being crushed every day. Women confined within the four walls of the house cannot share their grief with anybody.
Likewise, children are not able to attend school, which adds to the problem as there is no outlet for them. The victims are also scared of complaining to the police because they fear that harassment will increase. In addition to physical violence, common tools of abuse include isolation from friends, family and employment; constant surveillance; strict, detailed rules for behavior; and restrictions on access to basic necessities such as food, clothing, and sanitary facilities. The isolation has also shattered the support networks, making it far more difficult for the victims to get help or escape.
An important reason for this is that where victims previously found space to breathe, whether at work or socially, they are now spending all their time at home with their abusers. Not only in India, but governments all over the world, as the UN report shows, are receiving more and more calls for help, as victims of domestic violence fear for their own and for their children's health and well-being.
Emergencies exacerbate domestic violence:
We know that women tend to face greater risks during emergencies, including health disasters such as pandemics. We also know that during times of economic hardship, there is an increase in violent, abusive, impulsive, compulsive, and controlling behavior and aggression directed towards cohabiting partners and romantic partners. This has been widely studied since the time of the Great Depression, and seminal studies have evidence of the destructive effects of unemployment, lost income, and economic hardship on marital conflict, parenting quality, and child well-being.
Women whose livelihoods have been affected by the crisis, might also now be in financial distress—which is one of the barriers to removing themselves from a violent household. Women who might have been saving up money to leave might now have to utilize these savings elsewhere.
1.What could have been done, and what can we do going forward?
When governments start putting together plans to respond to crises such as COVID-19, addressing domestic violence must be prioritized. In India, the government seems to have overlooked the need to formally integrate domestic violence and mental health repercussions into the public health preparedness and emergency response plans against the pandemic.
We need an aggressive nationwide campaign to promote awareness about domestic violence and highlight the various modes through which complaints can be filed. National news channels, radio channels, and social media platforms must be strategically used, similar to the way in which the government has deployed campaigns advocating for physical distancing and hand washing to combat COVID-19.
ACTION TAKEN BY DELHI HIGH COURT:
THE Delhi High Court on April 24 directed the Delhi Government and the Central
Government to ensure effective implementation of the Protection of Women from Domestic Violence Act, 2005 in the wake of the increase in the cases of domestic violence during the lockdown.
A petition filed by the All India Council of Human Rights, Liberties, and Social Justice (AICHLS), detailed the extensive threats to the safety of women, particularly during the lockdown period, when they are locked down with their abuser. The Petition quoted statistics as evidence of this threat. It outlined, In the month of January, they received a total of 1,462 complaints, out of which 270 were cases of domestic violence. In February, there were 302 cases of reported domestic violence. In March, out of 1323 complaints, 302 were cases of domestic violence.
By – Alpesh Kumar