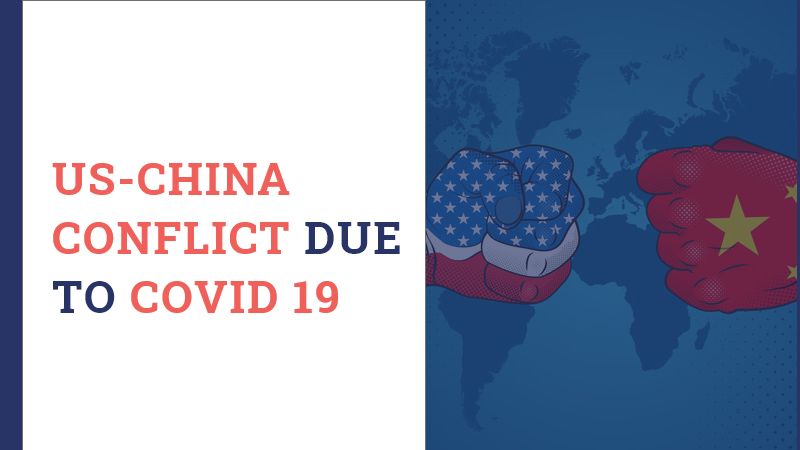 Background
Introduction
US claim
Issues between US-China
Impacts on India
Conclusion
Suggestions
The United States and China are the world's two largest economies; the US has a larger nominal GDP, whereas China has a larger GDP when measured in terms of purchasing power parity. China is the world's largest exporter and the United States is the world's largest importer.
They have so far been important pillars for the global economy. President Donald Trump in 2018 began setting tariffs and other trade barriers on China with the goal of forcing it to make changes to what the U.S. says are "unfair trade practices". Among those trade practices and their effects are the growing trade deficit, the theft of intellectual property, and the forced transfer of American technology to China.
Not only due to COVID19 But Both US and China has a long history of Trade War. Soon after Mr. Trump came into power, he inclined more toward the Upliftment of share market, Businesses & economy, etc. Due to the Trade deficit, he imposed more & more tariffs on China and promotes the domestic markets of the US.
Recently, in mid-October-November, the Novel Corona Virus emerged from the city Wuhan, China (as the US claimed). Due to late response from China about the virus has put the world in trouble.
What The US has claimed?
Mr. President claimed that the deadly virus is a gift by China which are originated from a Lab located in the Wuhan city of China. He also said that the WHO is mishandling the data of the origination of deadly viruses and also supporting china.
THE MAIN ISSUES BETWEEN THE US AND CHINA:
Corona Virus is not the only issue between them but there are many issues that have to be pointed out here in detail. These are some reasons due to which the two superpower country remain tensed:-
The US-China Trade-War: The dispute has seen the US and China impose tariffs on hundreds of billions of dollar worth of one another's goods.US President Donald Trump has long accused China of unfair trading practices and intellectual property theft.
In China, there is a perception that America is trying to curb its rise as a global economic power. Mr. Trump's tariff policy aims to encourage consumers to buy American products by making imported goods more expensive. The US has imposed tariffs on more than $360bn (£268bn) of Chinese goods, and China has retaliated with tariffs on more than $110bn of US products. Washington delivered three rounds of tariffs in 2018, and a fourth one in September last year. The most recent round targeted Chinese imports, from meat to musical instruments, with a 15% duty.
Beijing hitback with tariffs ranging from 5% to 25% on US goods.
HONG KONG ISSUE:- Recently, China Blocks US call, for UN Security Council Hong Kong Meeting. China approves Controversial national security law for Hong Kong.
The security law will alter the territory's mini-constitution, or Basic Law, to require its government to enforce measures to be decided later by Chinese leaders. It says the legislation will be aimed at tackling secession, subversion, terrorism, and foreign interference.
TAIWAN ENTRY IN WHO: Taiwan is campaigning furiously to attend the recent World Health Assembly (WHA) meeting which was held from May 18 for Two days. China claims Taiwan as its province with no right to its own diplomatic representation on the global stage and in international organizations such as the World Health Organization. Taiwanjoined WHA meetings as an observer from 2009 to 2016. It was invited as an observer to the WHA For 8 years between 2008 and 2016, with the name of Chinese Taipei. However, since the 71st WHA in 2018, China Mainland has continued to block Taiwan's participation in WHA as an observer.
This year the Five eyes group which includes (UK, US, Canada, Australia & New Zealand) is aggressively supported Taiwan to return to the WHA. But they failed to do so and this year also China blocks the path of Taiwan to join the WHA.
US Withdrawl From Open Skies Treaty:
Recently, the US withdraws itself from the open skies treaty. US Accuses Russia that they misuse the data collected by them. Indirectly, the US tries to point out the china. They claimed that data received by Russia by this treaty is misused and provided to China.
WHAT ARE THE IMPACTS ON INDIA?
Positive impact:- Let's see due to these disputes not only India but the entire world is being affected. Whatsoever thing is that, we the middle-class country gets some benefit from this.
For India, a significant shift in the manufacturing sector is awaited and this could be a golden opportunity for India, especially if it is properly positioned. Although, if the tension persists for long, then there could be a slowdown in the economy too. The United Nations had said in a report that India is among few economies that stand to benefit from the trade tensions between the world's top two economies. Negative Impact:- A Hindi phrase "gehu ke saath ghun pisana" ultimately works here. It means that in the future if India increases the trade relation with China or its ally then ultimately it results in Some Sanctions from the US side (which really became costlier) in the current situation. Some of the negative impact in terms of international perspectives are as:-
It leads to the emergence of disputes from the Neighbour countries such as Pakistan, Nepal, etc. because they are pro Chinese.

China can also tries to create panic on the northern border because India shares a large boundary with China. Recently, China increases the military In Galwan Valley in the Ladakh region.

It might lead to raise the LIPULEKHA PASS and KALAPANI Issues by Nepal on the will of China.
Well see, this dispute might not be solved easily and it takes a long time to cover it up. In my view, it seems to be like a new Cold War. Now, the US Restarted the Nuclear test program because they claimed that China has conducted the nuclear test, by violating the Comprehensive NuclearTest Ban Treaty (CTBT) of 1996. If US Indeed does conduct nuclear tests and pulls out of CTBT then it means the world will head towards a new nuclear weapon testing framework where countries like India can get a better status.
India shares a large boundary with China and that's why India has to take a strategic approach towards the Neighbour countries. Some are as:-
India has to approach the better economic development strategy.

It has to develop relations with the QUAD group consists of (India, Japan, Australia, and the US).

India has to take a strategic approach to what our Prime Minister said "free and open passage" in the indo-pacific region.

Last but not least there should be no compromise on the National security issues.
By – Govind Kumar Parbat