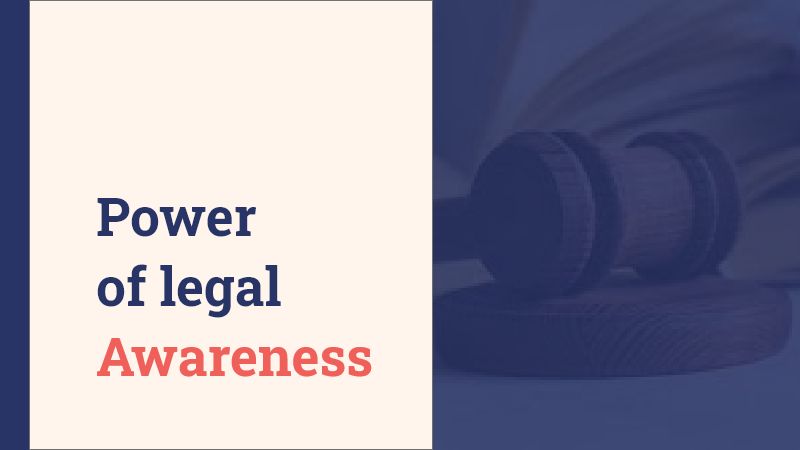 Awareness according to the Cambridge dictionary means "knowledge that somethings exist or understanding of a situation or subject at the present time based on information or experience".
India is the second-largest populated country in the world. Mass of the Indian population is illiterate and a major portion of the population does not know about the legal system prevailing in the country and they are also unaware of their rights and duties. The literate population of the country knows about fundamental rights granted to people by the Indian constitution but they don't know the difference between human rights and fundamental rights.
The former chief justice of India Ranjan Gogoi addressing the valedictory function of the 17th All India Meet of State Legal Services Authorities in Nagpur said that the absence of legal awareness is the 'root cause' of " deception, exploitation and deprivation" of the rights and benefits of the Indian population. He also observed that " awareness" is "Powerful Instruments" to bring social and economic development.
Attorney General Robert Kennedy on May 1, 1964, in Law Day Speech, said that "the poor man looks upon the law as an enemy, not as a friend. For him, the law is always taking something away."
Awareness about the free legal aid services will no longer make the poor think the law as their enemy. Free legal aid is given to that person who cannot afford the services of a lawyer for the conduct of the case.
If everyone will be aware of essentials for a valid contract, valid marriage according to different laws the scenario will be different. Even the senior citizens do not know the maintenance and welfare of parents and senior citizens act, 2007.
"Ignorance of the law is not an excuse" under our legal system so everyone should be made aware of the law of land.
There are different laws, rights, and duties that each and every person of the country must be aware these are like:
Fundaments rights
Fundamental duties
Motor vehicle Act, 2019
Domestic violence Act, 2005
Maternity Benefit ( Amendment) Act, 2017
Few sections of the Police Act, 1861
Maximum Retail Price, 2014 and many more
Conclusion:
Awareness is the tool for the development of an unaware, illiterate society and this development will help in the overall development of the country. Unawareness creates the backwardness of a person, society, and country. There are different schemes of National Legal Services Authorities working for awareness and helping them legally by legal aid programs and this is followed by all the other states of the country as State Legal Services Authority body. Legal awareness has the power to build a strong and progressive country. Legal awareness will help the persons who are in need and cannot afford the fee for a lawyer, it has the power to change the mindset of people if they know about rights, privileges, and duties they have given under, law of the land.
By: Nidhi Kumari